As the year wraps up, does thinking about your finances trigger anxiety? Is your business slowly plunging into debt or have you lost track of your business strategy?
If you answered yes to any of these questions, you may be making one of these 5 mistakes: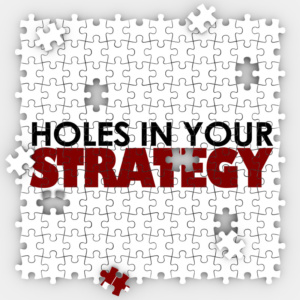 Creating a strategy just once in a year: Strategy is a continuous process. Most businesses make the mistake of creating that strategy once, and think the work is done. However, building an effective strategy is a continuous process of going back to the drawing board and re-strategizing as you go.
Strategy is not top down: It is not a dictation from the owner or manager Effective strategy is a collective effort of team members with similar mind sets. Are you a CEO who thinks you can throw out the plan and wait for it to be executed? If yes, then your results might be limited, and you may not get the level of buy-in you need from your team
Believing that strategy is just a set of analytical frameworks: an effective business strategy is not just about numbers, it is also about strategic communication. It is an explanation of how you think you are going to succeed and implementing it accordingly. It's about standing up and executing on initiatives to bring about the intended results.
Not acting fast: An effective business strategy is one that evaluates results periodically and seeks help as soon as possible to ensure proper implementation. Opportunities need to be acted on quickly and often with more uncertainty than is comfortable for most people.
Misconstruing what a business STRATEGY truly means: to effectively implement your business strategy, you must understand what strategy truly means. An effective business strategy is a statement of the activities and investments that leads a business to create and capture economic value. Strategy involves how you think about your business.
You don't have to fix it alone, book a discovery call today and let our Advisors help you create a step-by-step plan to put your business back on track, pay off debt and save for the future…